You have
energy

and good performance...
You have guts
You are dedicated
You are not afraid to perform
You want to learn...
We
offer

you...
Training
$14 up to over $20 per hour (according to your talents)
Pension plan/Group insurance
Fill out this questionnaire and we will evaluate how we can integrate you into our family business!
*DAY AND EVENING POSITION AVAILABILITY (MEN AND WOMEN)*
*Do you have experience in a factory?
*Upload your CV:
Message (optional):

info@hwppallets.com
Quebec Employment Opportunities
Looking for Work in Quebec?
Finding a job that offers a great working environment, fair wages and benefits while being located here at home in Quebec can be a challenge!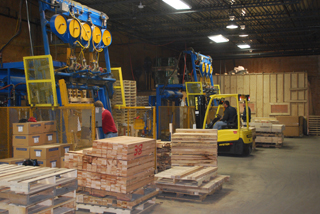 For the past 75 years, Herwood Inc. has been a proud local employer based in Windsor, Quebec. We believe that Herwood Inc.'s success is a combined effort on the part of management and our employees. We value the hard work that our employees do to keep Herwood Inc. running smoothly and offer competitive compensation packages that reward hard work and meeting our production targets.
We pride ourselves in offering a positive work environment for all employees and one that reflects the values that Herwood Inc. is based on. We promote a strong team spirit and a willingness to work hard for our customers. If you share these values, please send us your application!
If you're interested in joining our team, and feel you have the skills and qualifications required, as well as a strong desire to join a dynamic and winning team, we invite you to submit your application for one of the positions below:
Palletizer Operators
Forklift Operators
Line Operators
Mechanics
Nailers
Pilers
Don't see your position listed here? For general applications, please state what you're interested in and send your résumé to:
Fax to (819) 845-7582

**Please note that only successful applicants will be contacted for an interview**